Hello everyone

I hope you're all doing well!
To recap a bit, the chip shortage continues to be a source of issues finishing development of the NanoEFI ECU. Unfortunately around 40% of the chips used on earlier revisions of the NanoEFI ECU are unavailable with no ETA, which required a board redesign to use alternative chips. After spending a good amount of time on this issue back in February and seeing stock levels on Mouser and Digikey deplete before I could even finish the new board layout, it became clear that even with a redesign there really is no guarantee that the alternative chips will be available later on when we're ready to make a large batch of ECUs. It was quite a dilemma.
The only solution, as it seems, is to select and buy up a significant stockpile of the chips necessary and other board components up front. That way, we have enough inventory on hand to pull from while producing our new ECUs, at least enough to cover us until the chip shortage has been resolved.
To make that happen I've been on the grind, focused on growing our source of funding. As well as building out our mid-scale manufacturing capability. I'm happy to say that we've been having a lot of success in these areas!
If you recall, I started building and selling non-injection wiring harnesses last year to directly generate revenue for NanoEFI, LLC (the company), which in turn uses profits as a source of funding for the development of NanoEFI (the project). I've been pouring a lot of hours into producing and selling. And well, it's really blown past my expectations. People love these things and they've been selling faster than I can make them


Sales of the non-injection harnesses are generating just over $10,000 monthly revenue. After replenishing materials, inventory, expenses, and paying myself (gotta feed the kids), we have around $2,500 per month of that available for re-investment back into NanoEFI


Relatively speaking, this is a lot of cash for us given the fact that it renews continuously and incurs zero debt.
We're very fortunate that there is a (less technical) parallel niche to service right now with plenty of demand and cash ready to spend, which has enabled us to spin up our machinery and processes while simultaneously self-funding

…and people absolutely can't get enough of these things!
Damn!
---
I get asked often when NanoEFI kit will be available to buy. The answer really just comes down to the money at this point.
For the first batch of 100 kits. It will take approximately $15,000 to stock up on common parts (injectors, throttle bodies, fuel pumps, etc). Add an additional $10,000 to begin producing the custom parts in-house (ECU, wiring harness, intake manifold, fuel pump mount). At at save rate of $2.5k in funds per month, this means that we're looking at another 10 months (bese case scenario) just to save up the cash to do a wimpy little 100 kits, assuming every penny is pinched and zero dollars are invested in anything else - just saving.
That's not a viable option. We have to increase funding by a significant amount. These harnesses already sell faster than I can make them, and money is being left on the table right now as I have to turn down orders that I can't build quickly enough.
So we need to invest in additional automated equipment so I can build more harnesses in less time. That'll allow us to take all incoming orders, then take things a set further and launch into additional sales channels. This will enable us grow our cash flow beyond $2.5k and ultimately accomplish our goals much more quickly.
Actually… I've already been doing that and most of the new equipment is here and in the process of being setup


Here's what we've spent in the last 60-days:
$1,600 for two new Prusa MK3S 3D printers to keep up with our need for connectors;
$1,100 semi-automatic self-feeding crimping machine;
$1,200 worth of electrical terminals on reels;
$2,050 terminal feeders and applicators for the crimping machine.
That's about $6k slapped down on the barrel in the last couple of months, not bad. We'll be able to recover every penny from selling all the additional units that can be produced per month, so I'm not worried about that money being gone. Spare no expense!
And the bank isn't dry yet, all remaining funds (above our reserve threshold) are going into purchasing larger orders of materials (for volume discounts, and to work towards 1 year of non-injection inventory on hand at all times) to increase margins. I've spent a little on improving the workspace and organization as well.
Anyway, here are some pictures of the new toys:
Four Prusa MK3S 3D Printers
I print all connectors for the non-injection harnesses. It works great and they're much higher quality than the stock nylon version. We started with one 3D printer in 2020, then a second in 2021. With a couple more just arriving a couple weeks ago, we're now up to four total!
Automatic-feed Wire Crimping Machine
Cutting wire is super fast with the automated wire cutter/stripper I covered a while back. However, when it comes to crimping those wires, the tools we have just aren't up to the job anymore.
Remember that $20 hand crimper I converted to pneumatic last year? I love the thing, but it's our main bottleneck to production now.
It's saved my hands from repetitive injury for sure, but the action is just too slow and pins must be fed individually making it a tedious process. Just look how slow this thing is…
To solve crimp speeds, it's time for a new auto-feed crimping machine that supports terminals fed on reels. It crimps, then loads and positions the next terminal right away like rapid-fire



The machine just arrived a couple weeks ago, it's setup and powered. Right now I'm waiting for the additional feeders and applicators to arrive before I can start cranking out ridiculous numbers of crimped wire. I'm stupid excited to get it going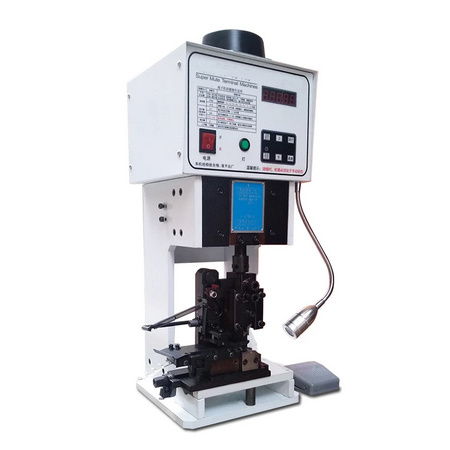 Oh man, this thing is going to fly. To feed the beast, reels full of terminals are all here and ready to roll (haha, pun).
I'm just waiting on a couple molds and several custom applicators I'm having made up to arrive now.
So where will this put us?
I'm estimating that between the rapid-fire crimping machine, and four total 3D printers, we'll be able to grow production capacity from dragging late nights through 80 harnesses per month, to blazing through 100 per week.
I'm expecting that will equate to be one week building 100 units, which will then go on the shelf to last the rest of the month. The following two weeks will go to injection development. Later, as sales grow I expect to get saturated again around the 300/mo mark, and we'll be looking for more fully automated equipment to bump us to the next level of scale while our access to funds continues to grow and get us up over the technical obstacles.
Thanks for your continued support everyone! We'll get there